The time has come for pumpkin everything. Pumpkin coffee, pumpkin scented candles, pumpkin patches, and, of course,  our very own annual pumpkin carving contest!
We are so lucky to have wonderful dentists that we partner with to participate in our contest. Be sure to keep an eye on our Facebook page so you can vote for your favorite pumpkin in the next few weeks! There's nothing like a little friendly competition. It's also a great way to get some fall themed decor around the office which happens to overlap with one of our favorite upcoming holidays: Halloween!
Other exciting things happening this month include celebrating our assistant Jordan's birthday, our Invisalign tune-up deal, and participating in St. Therese's jog-a-thon. You can find us there next month passing out drinks, snacks, and goodies. We love participating in community events so if you have any events going on be sure to let us know because we'd love to attend. We recently just finished up our annual "Big Screen on the Green" event at Glendoveer and had a great time hanging out with the families in our community.
Let's face it, fall isn't fall without some comforting, seasonal snacks. S'mores popcorn balls are one of our favorite snacks to indulge in! They make for a great little dessert or a snack to munch on while watching a movie. You can find the recipe below. We hope you'll enjoy them and we hope to see you all before the end of 2018.
If you do end up making these treats, don't hesitate to snap a photo and tag us in it! We'd love to see how yours turn out.
S'mores Popcorn Balls
Ingredients:
1 bag natural microwave popcorn
1/4 c. butter
10 oz. bag mini marshmallows
1/2 tsp. vanilla extract
2 c. Golden Grahams cereal
1 c. mini semisweet chocolate chips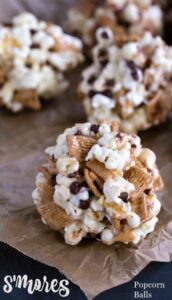 Instructions:
Pop popcorn according to package directions; set aside.
In a large saucepan, melt the butter and continue to cook it until it begins to turn golden brown.
Add in the marshmallows and stir until they are melted.
Remove the mixture from the heat and stir in the vanilla extract.
Add popcorn and Golden Grahams, and fold into marshmallow mixture.
When the mixture is cool enough to handle, lightly spray your hands with nonstick cooking spray. Scoop about one cup of the popcorn mixture and smoosh it into a ball with the mixture.
Sprinkle with mini chocolate chips, and gently press them into the popcorn ball.
Place the popcorn balls on a sheet of waxed paper, parchment paper, or silicone baking mat to cool. Enjoy!